PDFs
For Lecture:
Links on Portugal and Portuguese Culture for Lecture: "Lusitania: Land of Longing and Lament," at ISAPZurich, Zurich, Switzerland, September 2009. PDF, 148 KB »
Quotations for Lecture: "Lusitania: Land of Longing and Lament," at ISAPZurich, Zurich, Switzerland, September 2009. PDF, 112 KB »
Fado Lyrics in Portuguese with English Translation. PDF, 1.6 MB »
Fernando Pessoa (20th C. poet) Writing Samples. PDF, 412 KB »
Bibliography. PDF, 180 KB »
Concise History of Portugal (timeline). PDF, 28 KB »
Reference Papers:
The Enchanted Calendar of the Mouras Encantadas. A discussion of Portuguese legends describing the Mouras, enchanted women descending from the Moors. Isabel Cardigos, PhD. Director, Centro de Estudos Ataíde Oliveira (CEAO), FCHS (Faculty of Humanities and Social Sciences), University of the Algarve, Faro, Portugal PDF, 164 KB »
Religion in Portugal, from The 21st Century Encyclopedia of Religion (2002). Tiago Santos and Miguel Farias. PDF, 96 KB »
Seminar 13. The Wisdom Texts: Divine Wisdom, Sophia, Holy Spirit (available online here). Anne Baring, Diplomate Jungian Analyst. One of many works by Baring devoted to the reconnection and healing between mind, body and soul. PDF, 124 KB »
Love and Longing: The Feminine Mysteries of Love. Published in Personal Transformation, Summer 1999, from the Golden Sufi Center. Llewellyn Vaughan-Lee. PDF, 92 KB »
The Return of the Feminine & the World Soul, an excerpt from a forthcoming book by the same title by Llewellyn Vaughan-Lee. For additional information, video and audio presentations, lectures and more, please visit this generous site here. PDF, 448 KB »
Lament and Renewal in Temenos Oz. On the telos of lament from a topical and mythological perspective by Glenda Cloughley, Jungian Analyst (email); for the Barbara Blackman Temenos Foundation (in conjunction with the State and National public art galleries in Sydney, Melbourne and Canberra), Australia, Annual Public Lecture 2004. PDF, 780 KB »
Songs of Sorrow and Desire. Glenda Cloughley, Jungian Analyst.PDF, 116 KB »
The Scars of Colonial Warfare: Memories of Colonial War in Portugal. Sueli Simões, MD; Certified Regression Therapist by EARTh (European Association for Regression Therapy); Transpersonal Psychotherapist. Graduated in Deep Memory Process; Woolger Training Portugal; www.rogerwoolger.com.pt. PDF, 76 KB »
The Purpose of Praise: Past and Future in The Lusiads of Luís de Camões – An Inaugural Lecture in the Camões Chair of Portuguese. Helder Malta Macedo, PhD, Emeritus Professor of Portuguese, King's College London, since October 2004. Please see Dr. Macedo's complete CV for a bibliography listing books and articles published by this prolific writer and poet. PDF, 1.1 MB »
Permission to post the above documents on this site has been generously granted by all contributing authors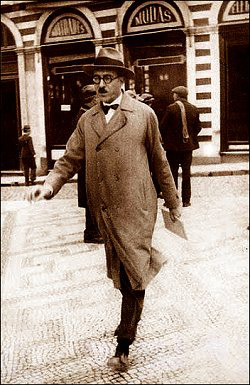 Fernando Pessoa, 1888-1935
(Click on image for more information)
I am the escaped one

I am the escaped one.
After I was born
They locked me up inside me
But I left.
My soul seeks me,
Through hills and valley.
I hope my soul
Never finds me.

---
This website is in support of the lecture Lusitania: Land of Longing and Lament presented at the International School of Analytical Psychology in Zurich, Switzerland (ISAPZurich) in 2009.